30 Aug 2010 | Alcoa Fastening Systems: Forrester Groundswell Award Nomination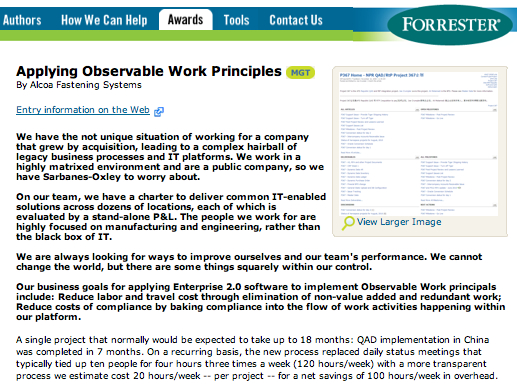 Brian Tullis and Joe Crumpler of Alcoa Fastening Systems have done a great job speaking and writing about their experience using Traction® TeamPage to support their innovative approach to project work. A lot of people ask for Enterprise 2.0 examples which show measurable return and provide practical advice based on experience: Brian and Joe do exactly that. We're happy their Alcoa Fastening Systems case has been nominated for Forrester's 2010 GroundSwell award. Please read the Groundswell page on Observable Work Principles - and add your own rating, comment and review on their case and others. Here's their Groundswell page summary:
"A single project that normally would be expected to take up to 18 months: QAD implementation in China was completed in 7 months. On a recurring basis, the new process replaced daily status meetings that typically tied up ten people for four hours three times a week (120 hours/week) with a more transparent process we estimate cost 20 hours/week -- per project -- for a net savings of 100 hours/week in overhead."
Brian and Joe's Next Things Next is a great blog for anyone interested in practical insights on Enterprise 2.0, project management and ongoing discussion of observable work. Also see #OWork on Twitter for live updates and discussion.

TUG 2010 Newport: Brian will be joining Jim McGee and others at TUG 2010 Newport 12-15 Oct 2010. If you'd like to join the discussion, please register for TUG, follow Twitter's @TUGConf for TUG 2010 Newport news and highlights, or see #TUGConf on Twitter 12-15 Oct for live updates.
Tweet