3 Aug 2011 | Alcoa Fastening Systems: What were you doing at 7:15AM Saturday July 2, 2011? Joe Crumpler was working.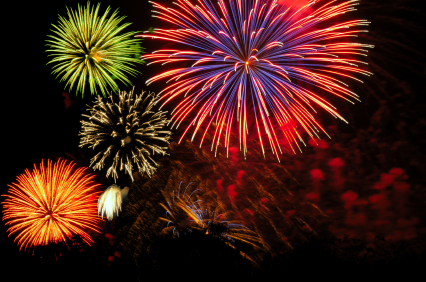 What were you doing at 7:15AM Saturday July 2, 2011? Sleeping? Getting ready for a Fourth of July weekend picnic or a trip to the beach? Joe Crumpler of Alcoa Fastening Systems (AFS) was reaching for his iPad to review status for the world wide roll-out of an Oracle upgrade scheduled for the holiday weekend. The story starts the night before. Joe writes in the Next Think Next blog that he co-authors with Brian Tullis:
I put it to the test Friday morning at 12:01 am. I held a kickoff meeting for the leadership of the Oracle upgrade project. We set the plan for starting the upgrade process and discussed communication strategy. Project hand-offs were to be explicitly communicated by email. Project work journals were to be handled by a Traction® Teampage status update. My test had begun.

I finally went to bed at 1:30 am. I woke up Saturday morning at 7:15 am. I reached for my iPad so that I could check my email feed before even getting out of bed. I had subscribed to the feed for the project's workspace the day before. My inbox was full of one-line status updates. It looked like a Twitter feed. I was happy to see that most of the volume came from Traction status reports. I read for 20 minutes before starting the morning status meeting. I had a basic understanding of everything of importance on the project before the meeting started; including all of the problems. More importantly, I knew we were behind schedule.
Fortunately for the team's rollout and holiday weekend, Joe's planned status meetings were reduced to two thirty-minute checkins per day (an 80% reduction over meeting practice before using TeamPage):
One of the reasons I use Traction Teampage for project management is that, if used properly, it dramatically reduces the need for project status meetings. I managed the China and Newbury Park's QAD projects using two 30-minute long meetings per day. This freed team members to focus on working instead of wasting time in meetings. Unfortunately, the acquisition project required hours of meetings per day because the information flow was cumbersome, and my system had failed me. The good news is, for the Oracle upgrade, I am using two meetings per day. One in the morning, and one in the evening.

This is how the 30-minute meeting works.

(1) Start with a review of the open issues.

Team members use status updates to identify issues. We make one issue tracking article per day, which resides in the project management workspace. The title of each issue is listed, along with a link to the task. We create a task for each issue. We track these within the go-live milestone on the Oracle upgrade project. We briefly discuss each issue. The goal is to describe the issue and its impact, and then assign who does what and by when.

(2) A five minute update:

The next step is for the project process owner. the person who has responsibility for executing the next step in the project, to give a five-minute update on the project. This normalizes project status across the team and is essential for team continuity. It also gives the team a better understanding of their comments and work schedule.

(3) New issues:

We ask each team member about potential issues. All issues are welcome, including the minutia of the project. Each issue is described accurately. We assess the potential impact and assign the issue an owner. The owner is responsible for resolving the issue or developing a plan that supports the project timeline.

We record all three steps in Traction so that a wider audience can follow the project. The first step is a static article. The second step represents the latest status posts via Traction's project management interface. The third step updates a static page with links to tasks from Traction's project management interface. We tie each issue to the go-live milestone.

Since this is a first attempt at using the status update capability, I've had to push my team to use it. It is not mandatory, but it is strongly encouraged. So far, they are exceeding my expectations. I think this is because a status update is easy to do and takes no more effort than tweeting. Plus, the post has no overhead. Team members simply write about accomplishments. It only takes few seconds.
The outcome of the four day go live process was successful. Brian Tullis, Alcoa Fastening Systems Information Services Director and co-author of Next Things Next writes, extending his comment on Joe's July 2 post: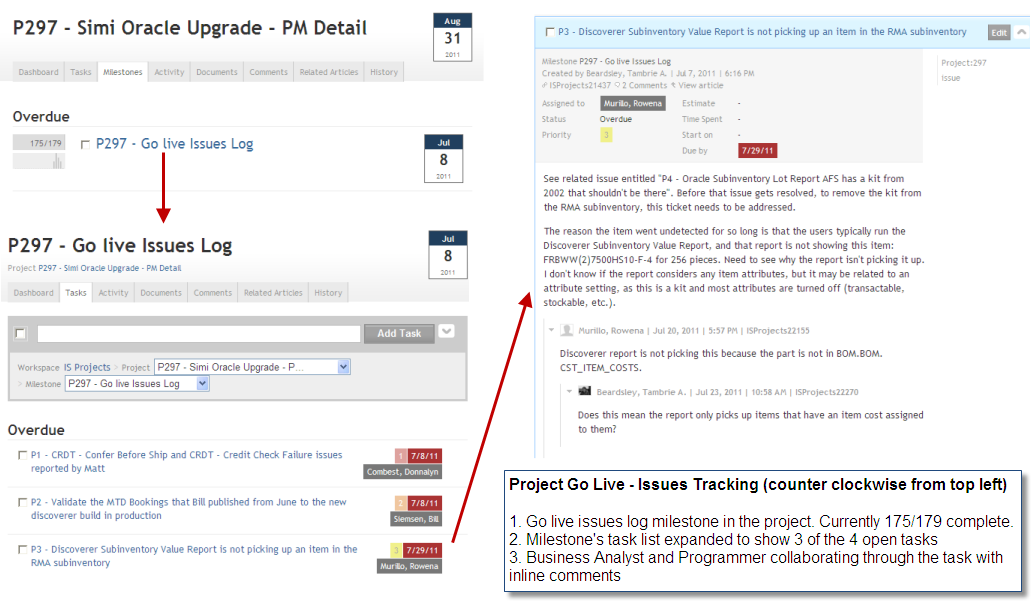 We managed almost 180 issues to closure using the Traction project and task management capabilities. We identified go live issues within a "Go live Issues Log" milestone, and that is visible in the screenshot. As of this screenshot, we closed 175 out of 179 issues identified. The benefit we realized from using Traction here come from everyone on the technical team being on the same page, being able to collaborate through the issue itself rather than in parallel email streams, and being able to communicate clearly to our internal customers about the status of issues encountered. The benefit realized here is that it was a critical success factor in the go live process, and we supplemented issue identification and resolution with the status update (like a Twitter feed) to provide people with project-related information during the 4-day go live process. The project went live successfully and all remaining open issues are being tracked separately as part of our operational processes.
Pin-point focus on activities associated with a specific Task, Project or Milestone is extremely valuable when you need to stay on top of rapidly changing, time sensitive and critical activities such as the Oracle rollout. But it's equally important to be able to zoom out to maintain a healthy awareness of many other tasks, status updates (aka Enterprise Tweets), conversations, questions, and other activities that surround you at work.
Every action, status, post or search result also gives you one click access to the Profile of the person behind that activity, allowing you to learn more, contact that person, or see the person's status and activity stream (like all content, streams or searches, clipped to what you have permission to read).
Integrated collaboration, communication, action tracking and search using the TeamPage model offers a big advantage: add a Task tag to any paragraph in a Wiki page, status post or other TeamPage item. You can then use search, Profile or Dashboard views to dive in to any topic, conversation or business activity associated with that Task using business context, person, Task, Project or Milestone to navigate.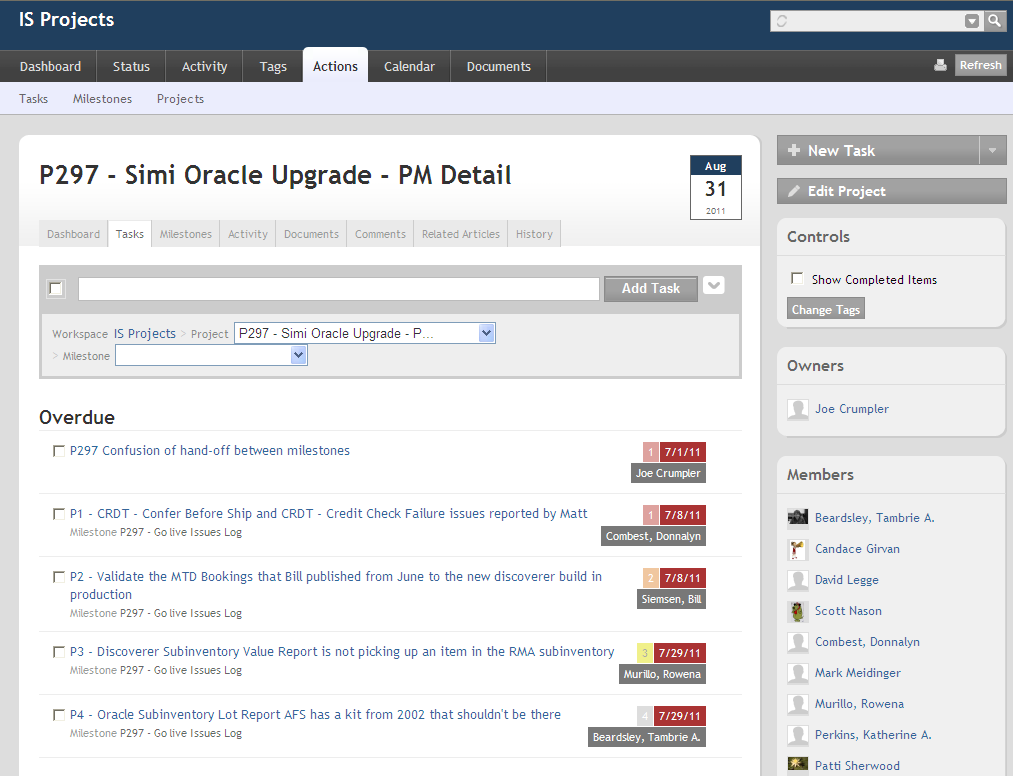 In Social Software for Business Performance - Some Perspective, Brian writes:
Working in the same platform as our procedures and documentation allows for some interesting things to happen, again, leveraging core hypertext / linking services. For example, we are doing a major system modification project, and one deliverable is to update the documentation for that system. We can associate a task from that project to the procedure in our [TeamPage] documentation wiki. Depending on the context, I see that something needs to be done to that procedure.

In the project context, I see a task pointing me to the procedure and calling for action.
In the procedure context, I see a task on the procedure, referencing the project.
In the user profile context, the assignee will see the task assigned to her, pointing both to the procedure itself and the project that generated the task.
It's the same content, the same base URL, referenced in 3 different spaces but all linked together.
Brian is providing his background and perspective on Alcoa Fastening System's participation in the Feb 2011 Deloitte Center for the Edge Study: "Social Software For Business Performance: The missing link in social software: Measurable business performance improvements"
Brian's team at AFS maintained internal metrics of performance over a three year period - before and after adoption of Traction TeamPage - that enabled them to document a "61% reduction in time spent on compliance activities through the use of Traction software."
Brian writes:
What was our goal? We went from request to live in seven months. A team of techs from the US supported a travel team of analysts. We accomplished a task that normally requires at least 2x the time and many more resources. We did it on time and under budget. The stars lined up for us on this project, but our map was in Traction. ~ Enterprise 2.0 and Observable Work: Recap and Speakers Notes

By consolidating this work in an enterprise social software platform, we eliminated 61% of the work required to maintain documentation, do tests, and inefficient waste time spent searching for information across 7 locations. 61% equates to almost two full time resources.

We tried previously to do this consolidation through other tools, to no avail. Why were we successful with Traction? There's something about Traction and social tools like it that enable outcomes that were never before possible. If you read the study, you learn that we experimented with applications of the tool until we found some that worked in solving a real business problem.We can spend that productivity gain on project work, software changes, user support, and all of those other customer-facing things that our colleagues expect us to do as an IT organization. Individual IT teams that have not consolidated all of their work into our central group are applying these patterns and using the same tools. ~ Social Software for Business Performance - Some Perspective
ps - I haven't checked with Joe, but I hope he had a happy Fourth of July weekend, with plenty of time for picnic, beach, fireworks (in the sky - not AFS IT land), and relaxation between status checkins and updates.
Traction® Software is happy to nominate Alcoa Fastening Systems for a Forrester 2011 Groundswell Award in the Management | Collaboration System Category.
Forrester's Groundswell Award Rules FAQ page states "We'll [Forrester] judge winners based on proof of accomplishing business or organizational goals, not based on what looks best or uses the best technology. Innovation and audacity are good too." with objectives for Collaboration Systems: "Help employees work together on projects."
We're proud of the Traction TeamPage user interface and technology used by AFS, and believe both are best in class for Social Software at work (other analysts and customers agree), but challenge you to find a better Groundswell nominee than Alcoa Fastening Systems judged on their proven accomplishment of business goals, innovation, and audacity.
See TeamPage Solutions: Quality Management and TeamPage Solutions: Project Management
Brian and Joe openly share their experiences on the Next Things Next blog as well as at talks at the Catalyst 2010 conference, E2.0 Santa Clara conference and Traction User Group (TUG). I'd also like to thank Alcoa Fastening Systems and other Traction Software customers who helped turn TeamPage best practices for action tracking and observable work into the integrated TeamPage capabilities introduced in 2010 and 2011.
From Next Things Next blog:
Related
The Work Graph Model: TeamPage style Understand how TeamPage connects people and their work.
Deloitte Center for the Edge Study, Feb 2011
Social Software for Business Performance
The missing link for social software: Measurable business performance improvements
Download the Deloitte report (.pdf)
Tweet