June 2014 | Traction TeamPage 6.0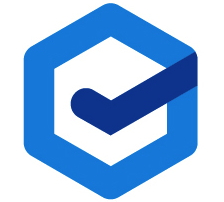 Traction® Software is proud to announce Traction® TeamPage 6.0, a major release incorporating important new features, improvements, and internal updates, as well as consolidated capabilities from updates shipped over the TeamPage 5.2 baseline. Sign up for a free trial, or download a free TeamPage license for free access to Traction Software's Customer Support and Customer Forum TeamPage server, including installer links and detailed change log information.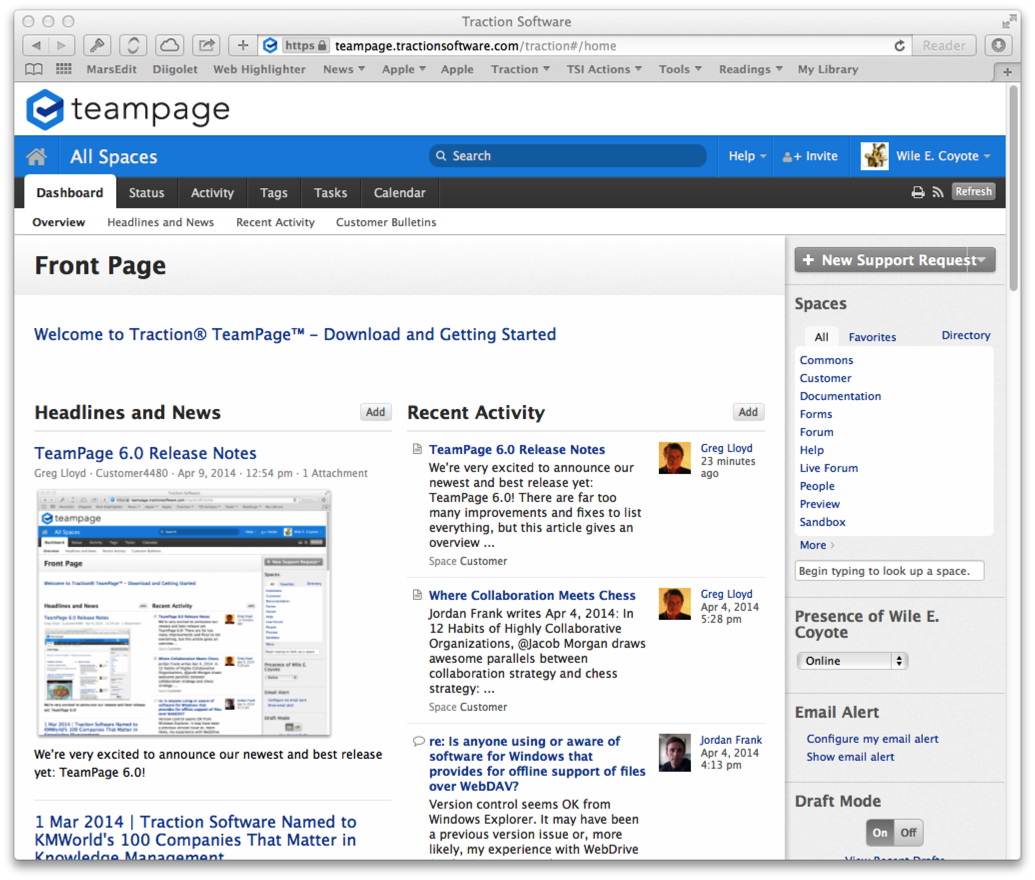 Traction TeamPage 6.0 Feature Highlights
Updated Styles for the Proteus Skin - Cleaner, crisper, less cluttered appearance. Icon and font rendering updates improve performance as well as style.
New Forms - TeamPage's Web based forms for creating and editing articles, tasks, and other TeamPage objects use a new forms framework. The new forms look cleaner, crisper and simpler. Developers can make their own forms that use standard features like naming, moderation, parent/child relationships, related project, related milestone and more. Forms support saving and loading template articles, making it to define and use templates for common tasks, meeting agendas, and other activities.
Updated and Improved Rich Text Editing - TeamPage uses the TinyMCE open source rich text editor, donating contributions back to the main project. TeamPage 6.0 incorporated the latest TinyMCE fixes and improvements, making rich text editing more reliable, easier to use, and visually attractive.
Jetty Web Server - TeamPage now includes the Jetty web server, which offers many advantages, including: server-tracked sessions, with the associated ability for administrators to expire any or all active sessions; tunable throttling to combat DDoS attacks; better resource management for handling incoming connection requests; and forward-looking compatibility with protocols such as SPDY and WebSocket to make it easier to keep TeamPage up to date with future innovations that affect the world of web based applications.
Smaller Memory Footprint - The amount of memory that TeamPage uses to provide access to the settings and properties associated with users, spaces, the journal, and the server has been greatly reduced without sacrificing performance. This can be a big benefit for TeamPage deployments of all sizes.
Updated Setup Interface - The Personal, Space and Server Setup pages have been redesigned and reorganized to make it easy to configure and maintain TeamPage defaults and options. The TeamPage unified search box at the top of every Setup page makes it simple to jump quickly to the right page by typing part of the name of a page or option and choosing from a list relevant Setup Pages that use that term.
Security Improvements - TeamPage 6.0 has been updated to use the latest industry standard procedures and cryptographic algorithms for password security, including the PBKDF2 standard (i.e., IETF RFC 2898). TeamPage now also keeps track of information about recent authentication attempts for each user account. Administrators can access this information for any user at any time, and each user can always access this information for their own account. Security conscious administrators have the option to require that each user review a summary of the previous successful and failed attempts to authenticate with their user name.
Improved PDF export - A new HTML to PDF export framework incorporates many improvements and fixes, particularly for robust cleanup and handling of messy or invalid HTML copied from external sources.
Improved invitations - Inviting someone to TeamPage automatically subscribes them to receive notifications for the spaces to which they have been invited.
IE7 Compatibility Mode - The Proteus skin now supports Microsoft IE 8 and newer browsers running with IE7 Compatibility Mode enabled.
Updated internationalization - Particularly for the Japanese locale.
Many Developer SDK improvements and examples
Many bug fixes and small improvements
TeamPage 5.2 features and improvements incorporated with Teampage 6.0
Traction Software's policy is to release incremental updates on a rolling basis to introduce new features, improvements, and bug fixes. Traction Software updates TeamPage for all Cloud hosted customers, and provides update installers for customers who choose to deploy TeamPage on their own systems. Updates with major improvements are typically released on a semi-annual to quarterly basis, with minor improvements and bug fixes on a quarterly to monthly basis depending on the urgency of any associated bug fix.
Traction® TeamPage 5.2 introduced capabilities to make it simple to track actions, show activity, watch status, and follow discussions embedded in the flow of collaborative work. TeamPage 5.2's new activity dashboards show actions, status and work in context using a format that's easy to read and reduces information overload. Activity dashboards allow people dive into and watch activity associated with projects or milestones they want to focus on, while also seeing, searching, exploring and connecting with others across a broad range of actions organized by business context as well as person. TeamPage 5.2 also introduced drag-and-drop file upload and image insertion for Web browsers supporting the new HTML 5 standard.
TeamPage Fall 2011 release: Traction TeamPage Social Enterprise Web and Attivio Plus options. The Social Enterprise Web option enables TeamPage to share, tag, comment, task, index and search linked public Web or company intranet pages. TeamPage Web browser extensions, inline badges and comment widgets link external Web sources to TeamPage discussion and provide visual feedback (similar to the way Disqus adds shared comments to pages on the public Web). The Attivio Plus option integrates deep search and discussion with live content stored in external line of business systems. The option provides permission-aware search, analysis, tagging, tasking, and sharing of content spanning TeamPage, SharePoint, email in Exchange, Documentum, File servers, SQL Databases, the public Web, private intranets, and other sources.
TeamPage Summer 2012 release: One-click action to allow TeamPage members to invite other people to join a TeamPage space (automatically creating account and adjusting permissions as needed per configurable rules); section table widget shows entry properties, including properties added as entry, task and custom entry type extensions; new developer SDK/SDL features; rewritten SDL documentation with FAQ and tree-structured index of SDL tags.
TeamPage Winter 2012 release: Calendar Events used to record meeting and other dates can be created, edited and shown along with project, milestone and task related dates. Project, task and milestone dashboards can now shown Twitter style status dialog focused on that specific activity; zoom out to see all status dialog in a space, from a person, or a merge stream of all status your have permission to see; type-ahead navigation and Attivio query completion suggestions; emailed notifications include a list of attached files; new sort options for Project, Milestone, Task sections; Java 7 update; user interface and performance improvements; developer updates.
Teampage Spring 2013 release: Unified search for quick lookup of people, spaces, tasks, projects and milestones; "finish later" and autosave support for articles, tasks, projects, milestones and comments; updated IOS 6 iPad and iPhone support; streamlined header design and navigation; Cloud pricing options, first month free; developer updates.
TeamPage Fall 2013 release: Upgrade to Java 7 as default and recommended Java version; Compatible with Attivio AIE release 3.5.1; Improved developer SDK support for custom entry types; Improved YouTube widget; improved feedback and erase features; developer updates; bug fixes and performance improvements.
Learn more
Sign up for a free trial, or download a free TeamPage license for free access to Traction Software's Customer Support and Customer Forum TeamPage server, including installer links and detailed change log information.
The Work Graph Model: TeamPage style Understand how TeamPage connects people and their work.
Tweet