May 2015 | TeamPage Bookmarks, interactive filters, and Japanese search improvement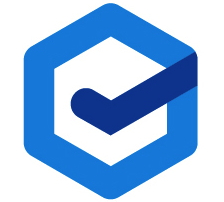 Traction® TeamPage Summer 2015 Release introduces a new TeamPage Bookmarks sidebar and interactive filtering. Interactive filtering makes it easy to focus on what interests you; bookmarks make it simple to return to any filtered or standard view with one click. The release also: improves searching and hit highlighting of Japanese text using the TeamPage native search interface; adds new classes to the TeamPage SDK; includes bug fixes, updated internationalization, and performance improvements.
Bookmarks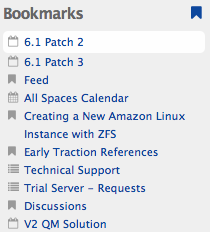 Now you can bookmark TeamPage views and return to them later. This lets you bookmark and return to filtered task lists, searches, or other TeamPage views including any Article or Dashboard. Bookmarking a filtered view shows new results using the filter settings you saved. To bookmark any view: 1) Click the bookmark icon; 2) The icon changes from empty to filled in, and your current view is added to the Bookmarks list. To navigate to a bookmarked view: Click the title in the Bookmarks list; that title is moved to the top of the Bookmarks list. To delete a bookmark: 1) Click the title of the bookmark you want to delete; 2) Click the bookmark icon. The icon will change from filled in to empty and that bookmark will be deleted from the Bookmarks list.
Interactive Filters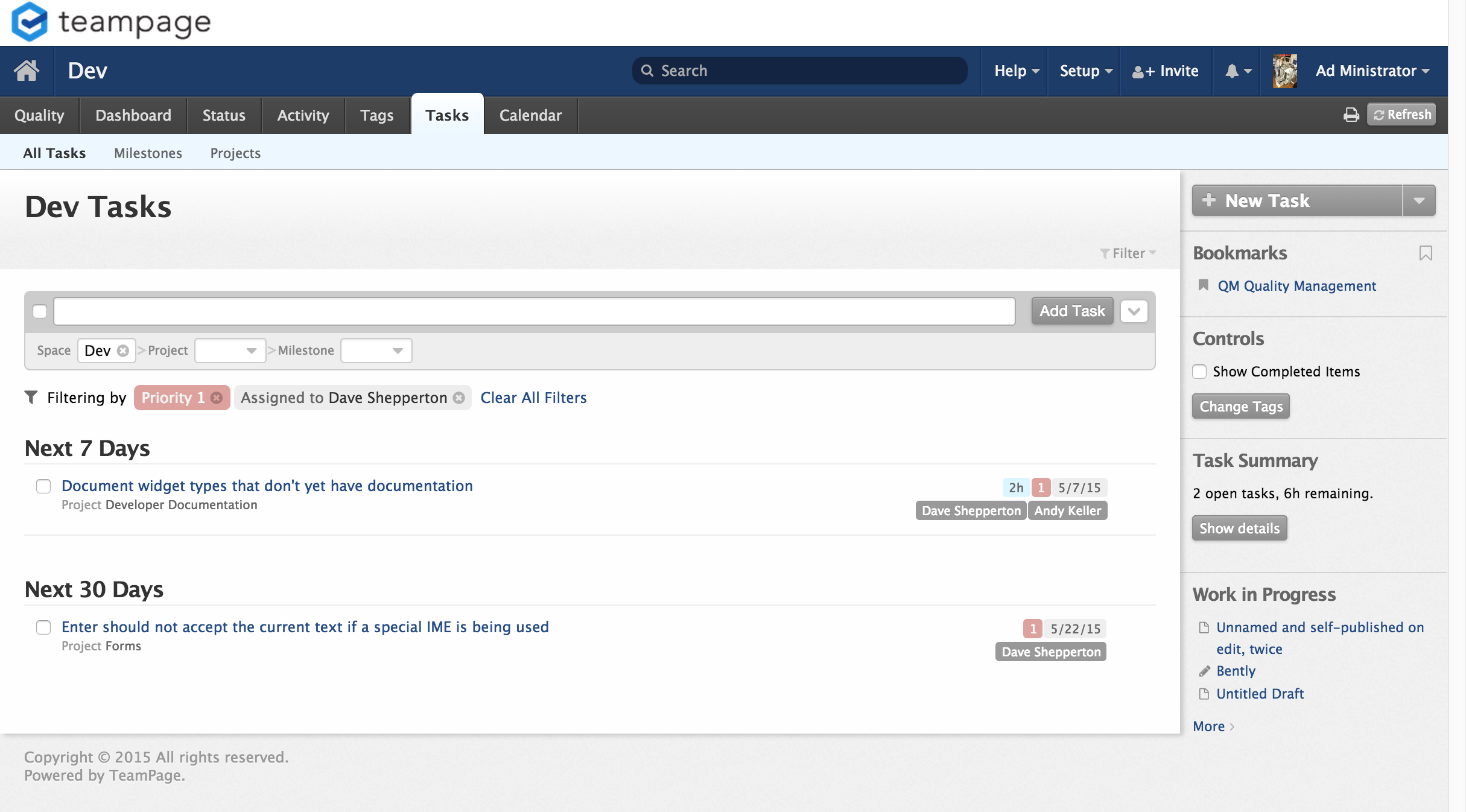 New interactive filtering makes it simple to drill down by Task Assignee, Member and Priority as well as general space, title, author, tags, and contributors. Interactive filters are extensible: application specific entry properties added as a TeamPage plug-in extension are automatically added to the filter menu. The May 2015 release adds interactive filtering for Project Management views and interactive section tables. The June 2, 2015 TeamPage update adds extensible interactive filtering for Activity and other views.
Japanese Search
TeamPage now comes bundled with the kuromoji Japanese morphological analyzer. This improves indexing for native search within Japanese language text, providing much better querying and hit highlighting.
Other Release Highlights
Preferred Article Date and Attribution The new Article Date preference allows the choice of original creation date or last published date to be shown with TeamPage articles. The new Attribution preference allows the choice of the original author name, last editor name, or no author name to be shown with TeamPage articles. TeamPage always records a detailed audit trail including the date and author of every article change, which can be seen an article's History tab or in the Activity feed of a person, space, or other object. The new preferences select the short Article Date and Author name generally shown along with the Article's title in many contexts.
Improved Attivio search filter builder - The filter builder interface has been updated so that it is quicker and more intuitive to apply a filter, and more visually consistent with the rest of TeamPage's user interface.
New SDK EntryField Class - SDK EntryField and EntryFieldRenderer interfaces provide improved access to entry field and other properties used in custom forms and SDK applications.
Related
March 2015 | TeamPage 6.1 Burn-up charts, interactive tables, SDK extensions Better tools for understanding the big picture of a projects or milestones
Dec 2014 | TeamPage @ Mentions Bring any TeamPage item to someone's attention, bring them into the followup conversation
July 2014 | TeamPage Notifications Introducing inline notifications
June 2014 | Traction TeamPage 6.0 Major Release. Restyled skin, Editing, Forms, Security, and internal improvements.
The Work Graph Model: TeamPage style Understand how TeamPage connects people and their work
Tweet