Ineffective meetings - Here's an answer
June 11, 2020
·
Blog3382
· Posted by Greg Sassen
Are you are a business owner, executive or senior manager? Then you've experienced the good, the bad and the ugly of management meetings.

Management meetings are the heartbeat of any business and are in place to keep teams productive, accountable and focused. Meetings are the primary channel for communication and goal alignment throughout the business.

If you and your teams are dissatisfied with the quality of your meetings, then you are fortunate enough to have a giant improvement opportunity in your business, with low implementation cost and high reward.

When you think about it, the actions that come out of your meetings are the smallest unit of improvement of your business. The rate at which you and your teams close tasks is the real rate of improvement of your business. It is a measure of engagement and agility. Tasks matter.
The Pain
Your meetings hurt you? You're not alone… Our customers vary in size and maturity. They also operate within different industries and they all experience the same issues, online or in real-life.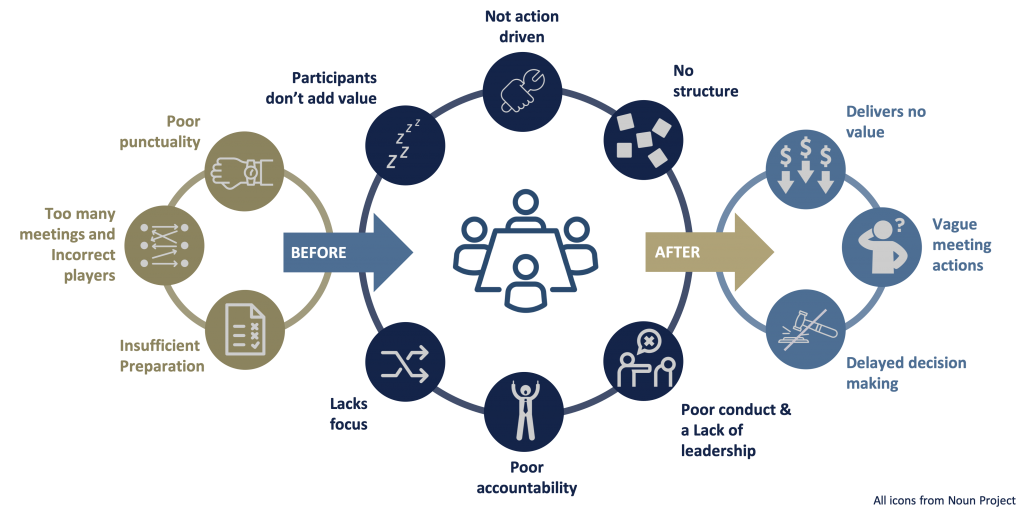 Invariably, meetings are essential and if they are inefficient or serve no purpose, then they carry a hidden cost to the business. Therefore we MUST refine and improve them continuously to ensure that we extract maximum value from them.
Our Customers have this to share
When asked the question, How has impi! and our technology, TeamPage, changed your meetings? This is what some of our customers had to say:
David Walker, Director at Common Architecture
"The TeamPage Meeting module gives us a dynamic way of managing actions that come out of our meetings."
Actions can be given a due date and assigned to different team members. In addition to the task title, there is also space to record more information needed to complete the meeting task.
To ensure that our meetings are purposeful, our decisions are also recorded when we log the meeting actions.
Overdue actions from previous meetings stand out so that we only review by exception. Actions that have been completed since the previous meeting are visible and are reviewed during the meeting as well.
We use TeamPage to manage our design projects as well and it is useful to be able to attach meeting actions to our various projects.
Overall, it's a really great tool that helps us record our meetings quickly and reduces the risk of forgetting our commitments from previous meetings.
Anton Claassens, Finance Director at Conversation LAB
"We have been able to stick to the rhythm"
Since engaging with impi!, we have been reminded on the value that effective meetings deliver to businesses.
Our meetings have therefore been more regular as a result…we have been able to stick to the rhythm.
Our discipline inside our meetings has also improved by sticking to the allocated time for agenda items and moving other 'non-agenda' items outside of our meetings. We are keeping it focused and productive.
By using TeamPage, our task and decision management is easier during meetings and having our agenda automatically generated each time we open a session has been handy. There is no need to spend time writing minutes after the meeting, everything is captured live on TeamPage.
Thomas Cogdell, Knowledge Coordinator at Athens Group
"It used to take us 2-3 days to consolidate information for our monthly quality meetings. With TeamPage and impi! it takes us 5 minutes"
We began using TeamPage in 2009, as a document management system for Quality Management, our Industry Knowledge Base and our Training Curriculum. Essentially this served as our company Intranet.
We later added other TeamPage & impi! solutions to track, manage and document our onsite QMS activities. The Nonconformity & Corrective Action solutions are examples.
We have been able to build links into our meeting space to gain direct access to our QMS documentation and reports immediately during our meetings. We review and log comments on our reports in a liveenvironment during the meeting so we don't need to go back and make adjustments to our reports after the meeting nor do we have to create meeting minutes. Our meetings have become more efficient since.
It used to take us 2-3 days to consolidate information for our monthly quality meetings.
With TeamPage & impi! it takes us 5 minutes.
Our Solution
Through observation and experimentation with our customers, we have identified 6 aspects that are critical to running effective meetings within your business.
In addition to these critical aspects, we also advise our customers to make use of digital platforms for their meetings. Today, there are many different tools & platforms that can be used to enhance our productivity during and between meetings. It would be a shame to not take advantage of the technology available to support our key business processes.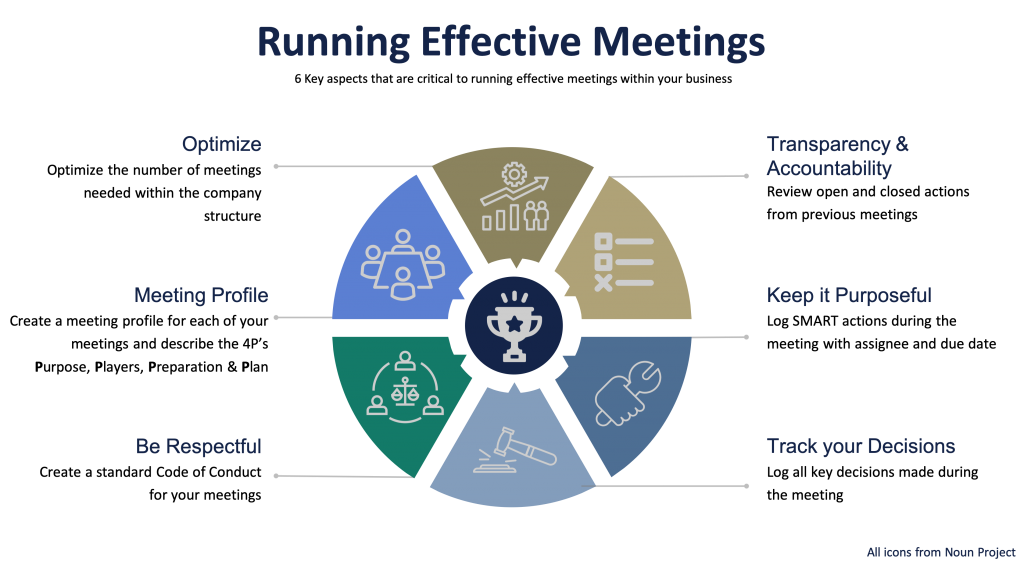 We, and our customers, use our technology platform, TeamPage, to support all of our key business processes including our management meetings. We have modelled our meeting module on TeamPage around these key aspects.
Together, through discipline and repetition, we have broken through our own pain barriers and have gained maximum value and enjoyment from our meetings.
Originally published on Impi! blog, see Welcome to impi! for more.
Tweet